Did you know that in 2022 alone, trucks moved a staggering 11.46 billion tons of freight? That's about 72.6% of the nation's freight by weight! This highlights the growth of the American logistics freight industry, its impact on the evolution of trucks, and the integral role this plays in our modern economy! In this blog, we'll explore the truck design evolution and its role in shaping the future of professional trucking. Let's get started! 
The Start of the Truck Design Evolution 
In the 1800s, Gottlieb Daimler altered the future of truck design when he launched the first truck in 1896. That four-horsepower engine beauty was a game-changer, even if it only had two forward gears and one reverse. Back then, trucks were simple and primarily used for quick city outings.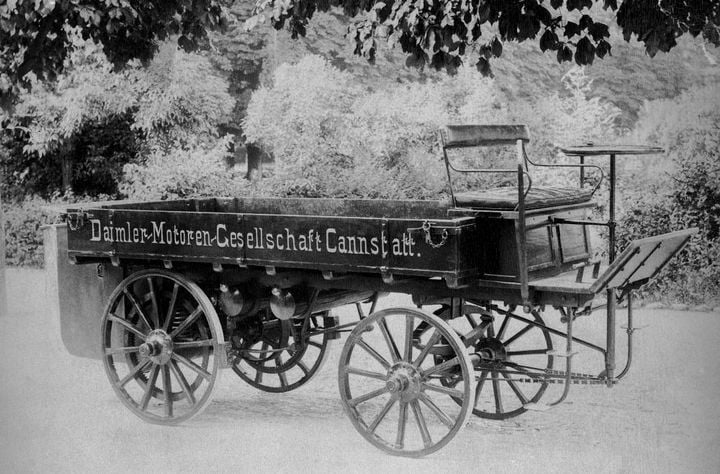 [Image Source: WorkTruck]
In the late 19th century, the first model of semi-trucks came into the picture, featuring cargo-carrying trailers. As engines became more powerful and efficient, the emphasis on design started to shift toward maximizing cargo capacity and improving fuel efficiency. 
World Wars and Their Impact on the Evolution of Trucks 
The global conflicts of the 20th century left a significant mark on truck design evolution. The military needed strong, sturdy trucks that could handle different terrains. These led to innovations like better suspension systems and more powerful engines. After the wars, these improvements were added to trucks for regular use, improving the logistics industry, creating more valuable trucks, doing more tasks, and becoming more fuel-efficient.  
Modern Advances: The Role of Technology in the Future of Truck Design 
Today, technological advancements are rewriting the future of truck design. Trucks are more advanced than ever, from GPS and real-time tracking to fuel-efficient engines.
Aerodynamic designs are now the industry standard, helping to reduce drag and boost fuel efficiency. Safety features like blind-spot monitoring and automated braking have been seamlessly incorporated, making today's trucks much safer compared to the ones that came before.  
Self-driving technology is also set to redefine trucking opportunities and play a massive part in the future of truck design. Overall, these modern advances in technology and innovation are revolutionizing how trucks function, opening up more trucking opportunities, and contributing to a more efficient, safe, and sustainable future. 
Modern Logistics Company Priorities: Fuel, Speed, and Regulations 
Trucks in the United States have evolved to meet various regulations, and commercial truck driving jobs now require understanding these rules. In the United States, trucks can be at most 80,000 pounds and usually must stay within speed limits of 55 to 70 mph.   
This has led to the development of lighter, high-strength materials and aerodynamic designs to fit within these weight and speed limits. Some states now have truck-only lanes and specific truck routes to ease traffic and boost safety.  
These guidelines have pushed trucking companies to improve engine performance for better fuel efficiency and incorporate safety features like advanced braking systems and blind-spot monitoring. Regulations have turned out to be a driving force behind the incredible improvements in modern truck design, making commercial truck driving jobs safer and more efficient for everyone! 
An Opportunity for Stability in Truck Driving Jobs in Texas and Beyond 
It's no secret that the trucking industry faces a truck driver shortage, affecting truck driving jobs in Texas. According to the American Trucking Association (ATA), this shortage is projected to hit 100,000 by the end of 2023 and 160,000 by 2031.
This gap in the workforce will offer numerous trucking jobs and trucking opportunities for professional truck drivers. Logistics companies are also leveraging these technological advancements to attract and retain professional truckers as the shortage continues. The increasing demand for professional truck drivers means you're not just getting a job; you're stepping into a role that offers competitive pay and job security. Fueled by these various factors, the future of truck design and logistics jobs as a whole is dazzlingly bright. 
Drive with Confidence: Join Warrior Logistics and Steer the Future of Trucking 
The evolution of trucks has progressed to prioritize safety and performance; nowhere is this more noticeable than at Warrior Logistics, a leading logistics company. 
Our fleet, consistently updated to ensure each truck is under two years old, is packed with the latest safety features, from Forward Collision Warning to lane departure alerts and more—all covered by the Detroit Assurance 5.0 package!  
It's not just the advanced technology we offer but a culture that truly values safety as its cornerstone. If you're interested in driving the future of a constantly innovating industry, apply today to see what it's like to be a Warrior Trucker!