The #1 Trucking Company in America
The #1 Trucking
Company in America
When deciding which logistics carrier to drive for, you want a trucking company that values each team member equally, acts with integrity and provides an environment that empowers you to achieve your fullest potential. For a trucking company that sees people as its greatest asset, look no further than Warrior Logistics. Our driver-centric focus inspires a dynamic and highly results-oriented culture, which has fueled our company's growth and made us one of the leading transportation companies in the industry.
About Warrior Logistics
Warrior Logistics was founded on a set of core principles with people at the heart of everything we do. We fundamentally believe this is what sets us apart from other trucking companies. Through strategic and ongoing expansion and continuous investments in our drivers, technology, and fleet, Warrior Logistics sets the gold standard in customer partnership and leads with a culture of excellence with people are our priority, and safety first is non-negotiable. Our commitment to these values has enabled us to be one of the fastest-growing companies in DFW by SMU Cox Dallas 100 and made us a leading linehaul contractor for FedEx Ground.
Fold 3: Operating Across the U.S.
Strategic and ongoing geographic expansion
Dedicated lanes and lower 48 OTR
24/7 management support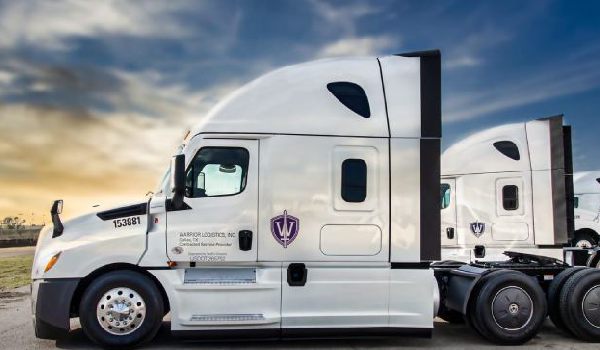 Features and Comforts of Our Trucks
Flat Panel Screen TV
Microwave
Fully Automatic
Sirius XM Satellite Radio
Refrigerator
Upgraded Mattresses
Inverter to Plugin Appliances
Rear bunk A/C Controls
Premium Lighting
Healthcare
Flexible Work Schedule
Paid Vacation
Safety Bonus
No-Touch Freight
Gifts
Free Uniforms and Work Accessories
Training
Fuel Program
I have a great partner and we have each other's back which makes my job easier. WARRIOR has great pay, great home time, and they have secured us through Covid. I can see myself retiring here.
We have top of the line Cascadia trucks and a great maintenance plan. Unlike other companies, they get to know you personally by name. Opportunities given here are not given elsewhere, especially for the new drivers.
Some key advantages are that we don't have to touch freight, and they are very focused on safety. WARRIOR has provided me with good pay, stable work, and all around it's a complete package.
WARRIOR is a place that will treat everyone as an individual. That being said they welcome you to the team with open arms.  You're not just a number or just a driver. Your experience and knowledge is welcomed and most definitely appreciated.
We joined WARRIOR because of their generous sign-on bonus and pay package. Since then we have run very good miles with great pay, plus WARRIOR has great referral bonuses. We drive a new, well maintained truck with great amenities.
At WARRIOR , you're not just an employee, you're part of our family.
I originally started my CDL career to make enough to support my three younger brothers and myself after my mother was unable to. I was basically a young parent of 3 young men with their whole lives ahead of them.
Steve and I worked with a couple that went to Warrior and told us we had to join them. Once we decided to go, we realized it was the best decision we could have made!
Grow Your Truck Driving Career with Warrior
Whether you're just starting your truck driving career or are an experienced long haul trucker, we invite you to join our mission of driving excellence. Grow as a professional trucker with one of the industry's top transportation companies!
DRIVE WITH WARRIOR LOGISTICS
Join WARRIOR LOGISTICS as a Professional Driver and Move Your Career Forward With One Of The Industry's Largest Transportation Companies.